When Jaguar launched the original XJ in September 1968 it's unlikely anyone involved in its design envisioned quite how long a shadow it would cast. 50 years on and Jaguar has only just shed the styling cues that the car established. That is a remarkable achievement and one repeated by few cars.
Lets take a look at the XJ's evolution and why it stayed the same for so long.
1. Series 1 XJ (1968-73)
Daimler XJ6 Series 1
The original XJ had a daunting task - to replace Jaguar's disparate and confused range of saloon cars, which included the aging S-Type and vast Mark X. A wholly new design, it proved a revelation - long and low like a sports car, smooth and refined like a luxury saloon. It was justifiably lauded as the most beautiful saloon car in the world, with ride quality to rival a Rolls Royce. With straight six and V12 engines, the XJ trounced the opposition in virtually every area - and was excellent value. This really was a new era for Browns Lane.
The Series 1 sold well, but Jaguar's merger with British Leyland proved its Achilles Heel. As BL milked its luxury brands for profits to funds its ailing mass-market models, Jaguar quality - never that great in the first place - suffered significantly.
Great Escape Cars' experience: We really like the original Series 1 XJ at Great Escape Cars. We've run a few 6 cylinder versions, including currently this lovely Daimler version. They've proved reliable, durable and are utterly gorgeous to drive - like piloting a very nice sofa.
2. Series 2 XJ (1973-79)
BABS the Great Escape Cars Jaguar XJ6 Series 2
Minor tweaks to specification and a switch to a standard long wheelbase resulted in the Series 2 XJ - more luxurious and with a redesigned front end to suit US safety legislation. The Series 2 didn't move the game on much, except to cement the car's reputation for abysmal quality and reliability. Demand always outstripped supply, but that was more to do with production problems and strikes than the market.
The Series 2 is notable for the arrival of the beautiful XJ coupe, a pillarless two-door built on the standard short XJ chassis that somehow managed to be even more attractive than the saloon.
Great Escape Cars experience: We've run coupe and saloon XJ6 Series 2 models. The saloon doesn't work as well for me as a LWB - cramped up front you feel like you're piloting a ceremonial limousine. Our car, this low mileage Sable-over-avocado example, won our hearts but dug into our pockets. The Coupe, meanwhile, is one of the few cars I wish I'd never sold.
3. Series 3 XJ (1979-92)
Great Escape Cars' XJ6 Series 3
Despite the success of the original XJ, its replacement (the XJ40) was continually put back due to lack of funds. This meant the car had to live on well beyond its natural life. To achieve this Jaguar went to Pininfarina and created the Series 3, which with subtle tweaks to the roofline and bigger bumpers managed to haul the 11 year old design into the 1980s. By then the only way to sell it was on the heritage ticket, a technique that worked particularly well in the USA where the residents at the time imagined Brits wandering around in top hats and smoking pipes.
The Series 3 added more refinement, luxury and better quality to the XJ offer. The six cylinder models soldiered on until 1987, the V12s until 1992. Despite the creaking underpinnings, sales were healthy - the Series 3 was by far the most popular version of the original car.
Great Escape Cars' experience: We ran an early, manual XJ6 Series 3 for a short while on our fleet. It proved problematic, mainly due to the injection system, and the manual gearbox really didn't suit the car. It was also surprisingly spartan inside. A well sorted, later (higher spec) XJ Series 3 would make a good classic choice.
4. XJ40 (1986-94)
Jaguar XJ40
Originally due for launch in the late 70s, the XJ40's arrival was put back due to lack of money and the success of the Series 3. It was clearly intended to build on the style of the original car but with a smoother and more modern approach. But by the time it arrived it didn't look modern anymore - it just looked retro, so Jaguar dug in with the 'heritage' theme. Beneath the retro looks was a fairly modern car with advanced electronics, excellent new engines and, Jaguar claimed, much improved quality.
The XJ was a decent car, but one hampered by those ambitious electronics (which failed - a lot) and terrible quality. That it also borrowed much from the original XJ also proved its strength and weakness - the cabin was cramped and the boot shallow and impractical. Only available as a six cylinder, the XJ40 struggled in America against home-grown V8s, which meant Jaguar had to keep building the V12 Series 3 alongside it.
5. X300 (1994-97)
Great Escape Cars' Jaguar X300 XJR
When Ford took over at Jaguar they immediately identified the issues with the XJ. Quality was improved and interiors modernised. This created the X300, which is essentially a XJ40 in a party frock. This meant that the compromises inherent in the original XJ chassis - primarily a cramped, narrow driver area - were carried over. And, 26 years on, the design was full of other shortcomings, including road noise, damping and ride.
The X300 was available as a six or 12 cylinder. It was more reliable than the car it replaced but with five fuse boxes, the electrics remained a problem. The supercharged XJR, however, signalled a future that wasn't all walnut veneers and trips to the golf club. While not quite a match for the all-conquering BMW M5, the XJR was quick, looked good and brought back the high speed prowess that made Jaguar so successful in the 1960s.
Great Escape Cars' experience: Our XJR, pictured here, alternated between a hire car and daily driver. Good to look at and fantastically quick, it proved difficult to live with on a daily basis thanks to the harsh, tram-lining ride and sub-20 mpg consumption. I also found the driving position uncomfortable - the handbrake in particular is oddly placed.
6. X308 (1997-2003)
Great Escape Cars' Jaguar X308 XJR
If the X300 was a stop-gap, the X308 was really the car Ford wanted to build. Longer, more refined and able to accommodate Jaguar's new V8, this was a car that could take the fight to the international opposition. And it did. Although based heavily on the X300 the interior was much better, albeit heavily skewed towards the 'heritage' ethos that now seemed to saddle everything Jaguar did.
The X308 upped the ante on complexity but also provided a supercharged V8 XJR which was much closer to the M5 in terms of appeal and ability. But still not very close.
The X308 cemented Jaguar's image as a car for the gin and tonic golf set, a market that was clearly available to target but which arguably alienated the car from a much wider audience.
Great Escape Cars' experience: Our X308 XJR was intended to make our Jaguar Driving Days more entertaining. And, in a way it did. It was spectacularly quick, with suspension and driver aids barely able to keep up, but also endlessly unreliable. Not break down and wait unreliable, just a cavalcade of electrical gremlins that spoilt the experience.
7. X350 & X358 (2003-09)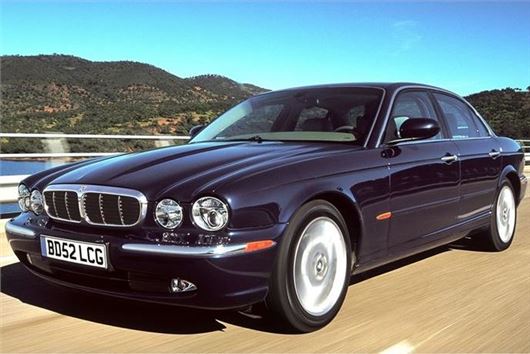 X350 Jaguar XJ
Finally, 35 years after its launch, Jaguar ditched the architecture of the original XJ and announced the X350. This technically advanced car used an all-aluminium body to reduce weight and a new range of engines. Unlike every previous XJ before it (except the Series 1) it was an entirely new car.
This should have heralded a new dawn for Jaguar in the executive car market. The X350 (and its virtually identical successor the X358) was reliable, well built, very well specified and there were diesel and supercharged versions.
The trouble was that to clothe all this newness Jaguar continued to dig the heritage theme and borrowed heavily from the style of the previous XJs. This is what happens when you only ask existing customers what you want a car to look like. So while Jaguar had a car that was more advanced than a BMW, Audi or Mercedes, it looked like something off the Ark. The X350 screamed 'old person's car' and alienated potential converts to the marque.
8. X351 (2009-)
X351 Jaguar XJ
When Jaguar launched its new saloon in 2009 it couldn't have waved a bigger two finger salute to the past if it had tried. Here was a car that was as much statement of intent as four wheeled transport. The X351 owed nothing to previous XJs and yet was clearly a Jaguar. It flowed, it swooped, it pounced, it oozed opulence and emotion unlike any product from Germany's car industry. Those who had grown frustrated by Jaguar's recycling of history applauded what was clearly a brilliantly designed and very capable car. They just about managed to drown out the booing from the die-hard customers who wanted a Jaguar to look like a Jaguar.
The X351 was and is a very good car: the interior looks like an ocean liner and it drives like a Jaguar should. The design has sired a range of Jaguars that seemingly grows daily.
9. The Future
Proposed 2019 Jaguar XJ
Jaguar is apparently rethinking its approach to the executive car market and the next XJ will be all-electric and very high tech. The car is due in late 2018, on the XJ's 50th anniversary, and will take the fight to Tesla. All of which is a very long way from 1968 and the world's first mass-produced V12 engine...
___________________________________________________
Great Escape Cars
we've run many different XJs over the years, including Series 1, Series 2, Coupe, X300 and X308 models. We love Jaguars but for us the original XJ Series 1 is our favourite. You can hire a Daimler version from us for under £200 per day. To find out more call 01527 893733 or visit www.greatescapecars.co.uk.
If you love Jaguars but can't decide which to drive, you might like our Jaguar Driving Day. It gives you the chance to drive 5 classic Jaguars over a 180 mile route.
Click here to find out more
.